Visitors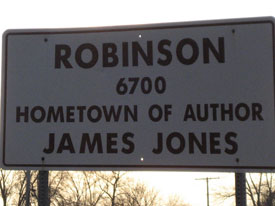 Robinson – A Great Place to Live
Robinson prides itself on being not only a great place to visit, but a great place to live. A quality school system, affordable housing, a state-of-the-art hospital, and a relaxed atmosphere, make Robinson a welcome place to stay a day or a lifetime.
Education
Robinson is home to exceptional educational opportunities. From pre-school to college, Robinson is proud of the success that accompanies its quality educational system. Community Unit School District #2 encompasses four schools – Washington Elementary School, K-2; Lincoln Grade School, 3-5; Nuttall Middle School, 6-8; and Robinson High School 9-12. The Board of Education, as well as the faculty and staff at these schools, have made a commitment to providing its students with the most up-to-date technology and educational tools needed to prepare them for the workforce or continuance of their education.
http://www.robinsonschools.com/

Lincoln Trail College is located on 120 acres northeast of Robinson. Opened in 1969, LTC has now become a fully accredited college with approximately 1,100 full-time and part-time students. As an Eastern Illinois Comunity College campus, LTC has the support of four Illinois College campuses for on-site industrial training, development and education.
From the traditional white picket fence to modern apartments, Robinson offers comfortable neighborhood living for any lifestyle. Housing is not only affordable, but conveniently located near quality supermarkets, local hardware stores, and various retail shops. From the historic downtown to today's national retailers, Robinson can offer it all.
Medical
Robinson is home to Crawford Memorial Hospital which provides state-of-the art medical facilities and physicians to the area. The hospital provides more than 30 healthcare services and 24-hour emergency care in its 115-bed facility. In addition, ambulance service and physicians specializing in a variety of fields are also on call.
Robinson has something to offer for everyone from the young to the young at heart…historic sites, two beautiful golf courses, fishing, camping, and fine dining are just a start to the many things Robinson has to offer. Whether you come for the day or to spend a lifetime, Robinson is a place for memories.