parks-recreation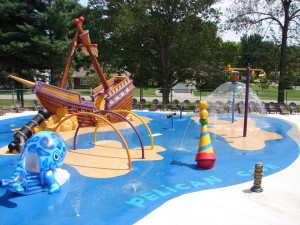 Welcome to the City of Robinson Parks and Recreation Page!

The City of Robinson Parks and Recreation Department was formed April 1, 1976 by the Robinson City Council. The Park Superintendent is Tyson Murray. The Park Committee today consists of Karen Bowman, Sarah Arnone, and Rick Lowe as the Chairman. The Parks and Recreation Department is a department within the municipality of Robinson, activities and programs along with Parks are designed to enhance the leisure enjoyment of all residents with the community and surround area. Feature attractions include Robinson City Pool, Deer Run Golf Course, modern playground structures, walking paths, softball and baseball fields, tennis, and basketball facilities. Programs offered include soccer, basketball, T-ball, golf, tennis and various swimming activities. Special activities are held in the Robinson City Park, Washington Park, Kringle Korner, and Pride Corner. Ranging from the arrival of Santa to his home in Kringle Korner to a weekend 4th of July Celebration at the City Park, activities include a whole realm of functions which touch nearly every individual and age group with the county.
*1201 S. Cross is the address for the City Park
To contact the Parks and Recreation Department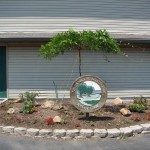 Call (618) 544-3834
Write to-
PO Box 188 300 S. Lincoln Robinson, IL 62454  
Email-
parks@cityofrobinson.com
Facebook- https://www.facebook.com/search/top?q=city%20of%20robinson-parks%20and%20recreation
If you would like to make a donation to the Robinson City Park
Gifts to the Robinson Parks and Recreation Department are always welcome. There are numerous projects which call for a great deal of funds and in some cases cannot be fulfilled without the interest of the public. Those wishing to make contributions to the Parks and Recreation Department (to be used entirely within the program) may do so by contacting the Robinson Parks and Recreation Department at (618) 544-3834 or City Hall at (618) 544-7616.
The Robinson City Park hours
6:00 AM – 11:00 PM
Rules for the Robinson City Park
There is no smoking within 50 feet of the pool facility in the park. Also there is no smoking in the shelters as well as near the concession stands located around the park.
If you are walking a dog you must keep your pet on a leash at all times. We love dogs too but, please remember to clean up after your pet.
Shelters

We have great shelters that you can rent to host parties and gatherings in. They make the perfect place for families and friends to gather and the kids can play at the playgrounds as well. To rent one of the shelters please call City Hall at (618) 544-7616.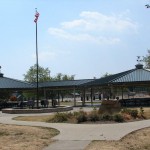 Overnight camping at the Robinson City Park
Available for a limit of three nights per stay, eight pads are located in the City Park. City water and electricity are available with 50 and 20 amp service, as well as a dump station nearby. There is a $25.00 per day fee. This fee can by paid either at City Hall or the Park Office at the City Pool.
Robinson Municipal Swimming Pool
The City Pool opened in 1956 and is a popular attraction in the Robinson area. The main pool holds 256,000 gallons of water and goes from a depth of 3 feet to 5 feet before dropping into the diving area to a depth of 12 feet. A wading pool and 125 foot long water slide along with the Parkdome Cafe are also located at the City Pool.
Hours
12:30PM – 6:45PM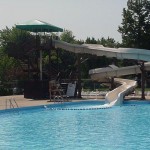 Fees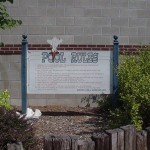 Swimming Parties
Planning a special activity this summer for your church group, company outing, birthday party, or just want to get your friends together for an evening of fun? Why not have it at the Park!
Pool Rental Times
10:00AM – 12:00 NOON = $200.00
7:00PM – 9:00PM = $200.00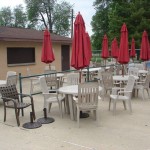 Swim Lessons
Private swim lessons are available in the morning hours at the City Pool. Lessons are taught by lifeguards. Lessons are $10.00 per visit for a 30 minute lesson. You may contact the Pool starting around Memorial Day of each summer to set up a lesson. PHONE: 544-3834. There will also be Swim Clinic opportunities each summer and dates will be available at the beginning of each summer.
T-Ball
It's a hit! This sport is a great confidence builder for your 5 & 6 year old. It is a great start on the basics of baseball with a lot of fun. You can't strike out and you always make it to home plate.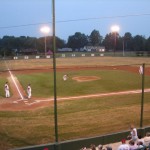 Baseball – Softball
Boys and girls may participate in either baseball or softball throughout the summer. Seven ball fields are located in the City Park, five of which are lighted. For further information regarding this program, contact should be made with the various league presidents or click on the link to be taken to there webpage.
Wabash Valley Cal Ripken League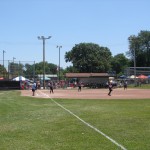 Robinson Girls Summer Softball
Hotels in a 50 mile radius of Robinson include
Quail Creek Country Club and Resort
TownePlace Suites (Marriott) Vincennes, IN
Comfort Suites in Vincennes, IN
Holiday Inn Express Vincennes, IN
Lincoln Suites of Marshall, IL
Washington Park
Address- 400 W. Condit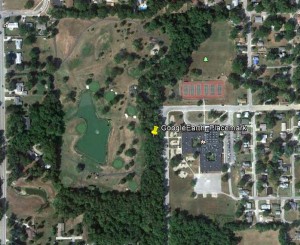 Deer Run Mary Heath Memorial Golf Course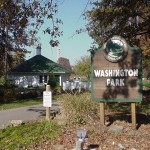 This golf course was built in 1996 and is located at the Washington Park entrance of N. Prairie Street and W. Condit Street. This nine-hole public golf course is built around a 2.1 acre lake. Stop in the Club House for your golf needs, and also pick up general park information.
Daily fees
$8.00 – all day
$5.00 – juniors 15 & under, seniors 60 & over
Season pass
$60.00 – seniors 60 & over
$100.00 – one person
$225.00 – family* of five (2 adults 19 & over, 3 children 18 & under)
*All family members must live in the same home.
Each additional person $50.00
PASSES GOOD FROM JANUARY 1 THROUGH DECEMBER 31
Hand carts and golf clubs are available for rental at the Club House. Those ten years of age or younger must be accompanied by an adult.
The City of Robinson reserves the right to close the course to all golfers when deemed necessary and to hold special events, again closing the golf course for these events.
Rules pertaining to the golf course are located at the first tee.
Phone: (618) 544-2350 – Deer Run Club House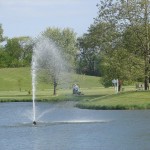 Washington Park Lake
This 2.1 acre lake was built in 1996, and was stocked by the South Eastern Illinois Sportsman's Club. Fishing is allowed with the following rules:
Blue gill may be caught and kept,
Bass may be kept if they are 18 inches or longer, limit 4 per day
Catfish may be kept except albino ones which must be released, limit 2 per day
No boats are allowed
Fishermen must be alert for golfers
Do not fish near greens and teens when golfers are present
During winter months there is no ice skating or ice fishing allowed
The fountain runs year around and was donated by the A. Hanby Jones Family.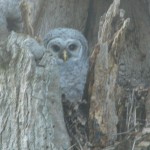 Nature Trail
Located in the south portion of Washington Park, this trail is a combined project funded by Marathon Oil Company and the City of Robinson. Various plants are identified throughout the park by a unique marking system. A test of your knowledge is available at the Club House in the park, which also includes identifications of the plants marked. Signs also can be found along the trails with educational information provided.
Sled Hill
The Sled Hill built in the fall of 2002, and located in the northwest corner of Washington Park, this hill is for the recreation enjoyment of all the residents of the surrounding area. Visitors should be aware that sledding, sliding, skiing, and hill riding can be fun and enjoyable forms of outdoor recreation, but risk of injury is present and those participating in this form of exercise should be aware of the danger involved and that the City of Robinson and the Robinson Park and Recreation Department are not held responsible for accidents incurred during this type of activity.
Tennis
The tennis courts located at Washington Park are a great
Need a tennis racquet restrung? Check the Deer Run Clubhouse for all your stringing needs.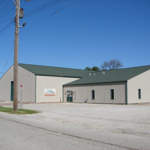 Ragon-Parker Training Center
A joint project between the Lincoln Trail College Foundation and the City of Robinson has created a unique facility for the duel use of the Lincoln Trail College Baseball and Softball teams and the residents of the community. A training area along with a fitness center complete with treadmills, bikes, and free weights are located inside. For further information contact the Parks and Recreation Department.
*A membership key system allows the training facility to be used 24 hours a day.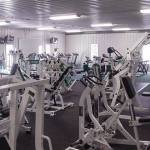 Fees
Adults (19 & up)                                  Juniors (14-18 years)
$20.00 per month                               $10.00 per month
$50.00 quarterly                                 $25.00 quarterly
$180.00 per year                                $85.00 per year
A special project of the community was started in 1994. "Come Home for the Holidays" helped create a winter wonderland at the former Mini Park at the corner of E. Walnut Street and S. Jefferson Street. Now called Kringle Korner, this special event area is the home of a one of a kind Santa's House which can be viewed year around.
This digital sign is located at the corner of East Main and North Jackson. This special event area was built in the fall of 2001 honoring various individual state champions and team state champions and runner ups. This special event area welcomes the public to our community. A digital sign donated by the First Robinson Savings Bank announces various school, park, and local nonprofit events involving the youth of our community. Have a birthday or anniversary announced on the sign by calling City Hall at (618) 544-7616. There is a $5.00 fee for this service.
Interested in becoming a Park employee?  The City of Robinson will advertise when application periods begin and end.  You may download the application here: