Wastewater Treatment
Wastewater Treatment bill pay https://cityofrobinson.azurewebsites.net/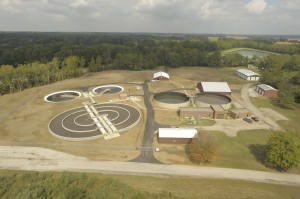 The Wastewater Treatment Facilities (WWTF) are located on outer Mitchell Avenue. The plant is operated by a Superintendent and five Operator/Maintenance employees. The Robinson WWTP was newly constructed in 2010-2011 and includes a 2.5 MGD Advanced Activated Sludge Plant and complete laboratory where they perform process control and NPDES testing. They also maintain 12 sewage pumping stations located throughout the city and surrounding area, an Industrial Pretreatment Program and provide wastewater billing. The plant has consistently met or exceeded its NPDES permit requirements over the past 22 years. The Robinson Wastewater Treatment Facility finished a 7.8 million dollar upgrade in 2011. It is a state of the art activated sludge facility incorporated into their existing infrastructure.
Highlights of the new facility include Biological Nutrient Removal (Denitrification and Phosphorus removal), automated storm flow management, waste activated sludge screening and disposal, waste sludge conditioning to reduce waste sludge yield, ultraviolet disinfection, plant effluent water reuse and a comprehensive SCADA package which includes the plant and all 12 collection system lift stations.
The upgrade raised the plant design average flow capacity from 1.5 Million Gallons per Day (MGD) to 2.5 MGD and the design peak flow capacity from 3.75 MGD to 6.25 MGD. The expansion began on 5/6/10 and was completed on 9/5/2011.
Existing Treatment Processes at Robinson include:
Influent Screening (Parkson Aquaguard with screenings collection, washing and compacting)
3 Ring Orbal Activated Sludge complete with 3-60 hp Siemens Disc rotors and 3-30 hp Siemens Disc Rotors
2 – 80′ diameter Siemens Tow-Bro  Clarifiers equipped with Sludge Density Baffles and NEFCO Weir/Launder Covers
1 – Parkson Strainpress for RAS screening to 5mm
2 – Sets Trojan UV 3000 PLUS self cleaning effluent disinfection units
2 – 90′ diameter Interchange/Digester Tanks for aerobic digestion and solids yield reduction
2 – 15 hp Flygt Mixers in Interchange/Digester Tanks
3 – 45 hp Flygt Submersible Influent Pumps
2 – 20 hp Flygt Submersible RAS/WAS Pumps
Plant Water system provides 80psi @ 250 gpm for washdown of equipment, wash feed for Inclined Screw Press and wash feed for Parkson Aquaguard Influent Screen
All valves are Henry Pratt Eccentric Plug Valves
Complete SCADA System with touchscreen and 42″ display in Lab Building covering all plant operations/ alarms and all remote lift stations/alarms
Renovation of the UV Building
Renovation of the Existing RBC building to a 90′ x 100′ heated machine and maintenance building
Inclined Screw Press (new January, 2016) , Covered Sludge Storage Building and Agricultural Land Application. We average 25% TS off the press.
For residential customers, a monthly fee of a minimum of $14.00 per month is charged for sewer usage. It is based on water usage, and additional charges are made on the gallons (in thousands) of water used. Bills are mailed before the 15th of each month, and due on the 28th of each month.
Bills may also be paid at:
First Financial Bank and Regions Bank
Hours: 7 A.M. to 4 P.M. Monday through Friday
* Two night deposit boxes are also available. At the community center, a walk-up box is to the right of the front doors. A drive-up box is across from the Catholic church.
Contact information
Phone: 618-544-7616 (Lynn Weger-Williams, Billing Manager)
Wastewater Treatment Plant: (618) 544-8110

WWTF Hours: Monday-Thursday 7am-3pm, Friday 6am-2pm
Sewer Use Ordinance
Industrial Pretreatment Program 2020-O-30
IPP Sewer Use Ordinance final 10-13-2020
New Plant Construction Photos: